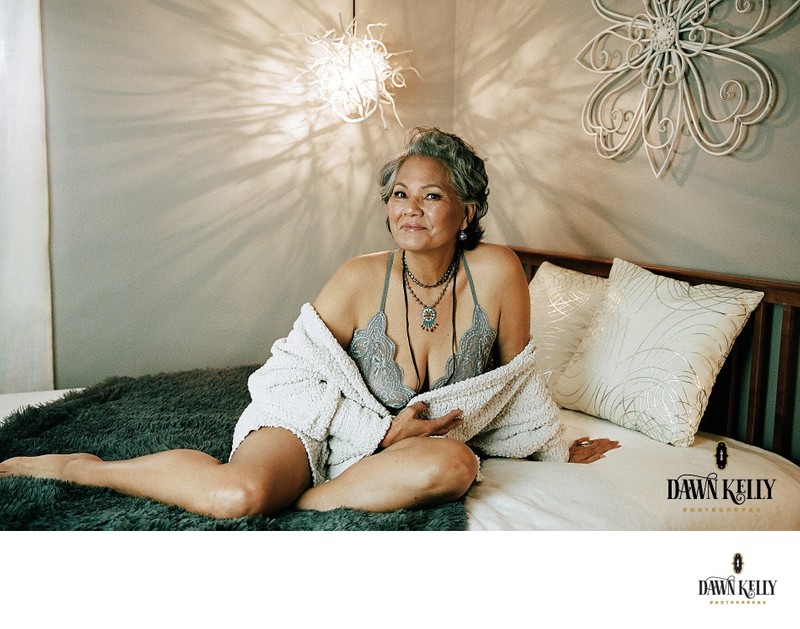 Boudoir FAQ
Q: What is your photographic style?
My boudoir photography is very natural. I love to connect with my clients so I can bring out their personalities in the photos. I want you to be yourself, laugh, and have fun. I don't believe in overly-posed and overly-retouched boudoir images. There is no reason to change yourself because you are perfect the way you are. I never Photoshop anyone without permission. I don't work with busy sets or backdrops because I don't want it to take focus away from you, and these photos are about you, not me. In a nutshell, my style is classy and seductive, never overtly sexual.


Q: I've never done anything like this before and I'm SUPER nervous! How could these photos possibly turn out well?
I'll be honest with you… I have had my own boudoir photos done, and I was TERRIFIED! I was shaking and sweating, and I do this for a living. However, I chose a photographer that I trust and we planned the session together, and that helped a lot. I truly understand how you feel.
I've been told by all my boudoir clients that even though they were very nervous when we started, they became very comfortable once the shoot got rolling. I make the session as fun as possible, including your fave playlist on Pandora! Read my testimonials to see what my clients have said.
Q: I don't even know where to start? How do I plan something like this?
The good news is, I will take your hand and guide you through the entire process, from choosing wardrobe to selecting your album images. Please check out my comprehensive Boudoir Guide for detailed information.
Q: Who will be photographing me?
Only I, Dawn will photograph you. Privacy and modesty are very important to me, and I need to give that to you. Also, there are no men on set, EVER. My studio is in my home, so it's 100% private. You don't have to worry about someone walking by the studio or sharing bathrooms with us. I even use a female hair and makeup artist.
Q: Do you have props and wardrobe I can use?
Yes! I have curated a wide selection of lingerie in a variety of styles and colors. Sizes XS to XL are available. You can choose between teddies, bodysuits, sets, bustiers, corsets, bralettes, panties, nighties, robes, body chains, jewelry, wedding veils, and much more. I selected modern, trendy, and sexy lingerie in classic and fun colors. There is definitely something for everyone.
Q: How many outfits do I get to wear?
Your session includes three outfits, plus topless and/or nude options. I recommend you bring a few outfits that are special to you, such as your significant other's shirt, tie, or other things. I love to personalize the photos as much as possible. Of course, you can bring whatever outfits you'd like.
Q: Do you do nudes?
Yes, I do, upon request. There is nothing like a true artistic nude on black and white film. In your consultation I will ask you what type of photos you'd like to do, nudes included. But I will never try to force you to do a nude. If during the shoot, you decide to or decide not to, that is your decision.
Q: Do I really have to wear tiny, see-through lingerie, or do I have to pose topless or nude?
No. You can wear as much or as little as you like. A woman doesn't have to be undressed to be sexy. I do a very wide range of boudoir styles, from pinup to nude. Great alternatives for conservative clients are: slinky cocktail dresses, vintage aprons, your man's favorite jersey or button-up shirt, booty shorts, and many other modest yet sexy outfits. I will help you choose your wardrobe, so don't worry.
Q: I'm a curvy, plus-size girl. Where can I find sexy lingerie?
I have a selection of trendy and stylish large and extra-large lingerie. If you'd like to shop, my favorite online store for gorgeous, sexy, and affordable lingerie is Yandy. They have a very wide array of options, ranging from naughty to modest.
Q: Who will see my photos?
I shoot film, so professional labs will see the photos. The lab that processes and scans the negatives does not look at the images. The album company and the print lab will see the images. They see millions of images per year and are very professional. There is no danger to your images. If you don't want any photos posted on my website or social media, that's totally fine. What I post is up to you.
Q: Will you retouch my photos?
I do very light retouching, which means balancing light and contrast, cropping, and occasionally smoothing skin. I also do some minor fixes. By "fixes" I mean, removing slight bumps, lines, or even little bulges that may appear due to certain poses or lingerie. I rarely have to retouch anything because I know how to best flatter you with wardrobe, posing, and lighting. I want you to look like YOU, at your best. If you would like extensive Photoshop, I am not the photographer for you.
Q: What do your boudoir services cost?
Pricing can be found at the bottom of my Boudoir Guide.
Q: How many images will I receive?
If you choose a package with a flash drive, you will receive all your retouched photos. I typically deliver around 100 images per session.
Q: Will I get hair and makeup with the shoot?
I work with the best hair and makeup artist in the Central Valley. Summer Barker with Wildflower Bride has been in business since 2005, and no one beats her quality and skill. If you'd like to have professional hair and makeup done for your session, you can book directly with Summer.