Boudoir Guide
Are you looking for a special present for your groom, significant other, or for yourself? A boudoir album makes the perfect gift because it's unique and personal. This is an opportunity to push yourself, break out of your comfort zone, and see yourself in a totally different light. There's something very liberating about stepping in front of a camera in (or out of) lingerie. Your self-esteem and confidence will soar. Your femininity and sexuality will be awakened. You'll bare your soul and be vulnerable in new ways. Once you do that, you'll feel like you can do anything! I know because I've done a boudoir session myself.
I've always struggled with my self esteem, even battling an eating disorder since the age of seventeen. Like most women, I've spent my life criticizing my body every day, only seeing the flaws. I practiced a lot of self hate. But when I saw these women of every size, shape, age, and walk of life get in front of my camera, bravely exposing their flaws, I felt a kinship. I felt that if they could be confident in front of the camera, so could I. If they could be happy with their bodies, even with their flaws, so could I.
When my photographer captured me on film, and I saw how beautiful I was through their lens, I knew I had to accept myself as beautiful. I had to put aside all the self hate and start loving myself. How was I supposed to expect my clients to do that if I couldn't? It changed my life.
What is boudoir photography?
Simply put, boudoir photography is a sensual, romantic photo session in which the woman is dressed in lingerie, topless, or nude. The session can be as modest or erotic as the client wants, from fully dressed to completely nude.
About the Studio
I started photographing boudoir in 2014 when my brides started asking. My first session was in a gorgeous home, which was built in the 1920's and full of unique furniture. We worked in every room, changing outfits and playing with poses. We both had creative ideas that we explored. The finished product was beautiful, and although I needed a lot of work on refining my techniques, we produced some really great shots.
As the snowball effect took hold, other women were quickly hiring me. I found myself working in all types of environments, including automobile junk yards, dark apartments, and my own bedroom. It became clear that if I wanted to make a go at this, I needed to build my own studio.
I redecorated my home, turning our dining room into a studio with a wall of mirrors. Our extra bedroom became a set as well, with a hand-made lighting fixture and a beautifully dressed bed.
My favorite part of the job is definitely showing the client her images for the first time. It's amazing to see her transform right before my eyes. She sits up straighter, grinning at her own beauty, as if she's seeing it for the first time. This experience has changed each of my clients in different ways.
After I deliver an album, I always ask, "How do you feel about yourself?" All my boudoir clients say they feel beautiful and empowered. Some women say they were really shy before their session and it brought them out of their shell.
How to Plan Your Session
Choosing a Photographer
This is the most important part of planning the perfect boudoir session. Your photographer will need to be skilled enough to flatter you and make you feel comfortable throughout your session. The easier things go and the more comfortable you feel, the better the photos will come out.
None of my clients know how to pose, and they all apologize for that. It's not your job as a client to know how to pose! You're paying the photographer to pose you and use lighting to flatter you. When researching photographers, take a look at their portfolio and ask yourself these questions:
Do the women in the photos look amazing, yet natural?
Is there a wide variety shapes, sizes, ages, and ethnicity?
Have the photos been Photoshopped within an inch of their lives?
Do the photos look fake at all?
Does the photographer's style fit what I'm looking for?
Then, read through their web site to find out as much as possible. Why do they do this? Are they passionate about helping you feel confident and beautiful? How long have they been doing boudoir? Do they celebrate all women, or is it clear they only work with certain sizes?
Be sure to read their reviews on their web site, Yelp, and wherever else they are posted. Set up consultations with your top two photographers. Don't be afraid to ask questions. Go with your gut. While talking with them, determine how you feel. Did you hit it off? Do they "get" you? Do they make you feel self-conscious at all? Remember, this is a very intimate photo shoot. You'll need to be 100% comfortable with your photographer or your photos will look awkward and unnatural.
Getting Ready for Your Session
Once you book your photographer, it's time to prepare for the shoot itself. Follow these steps to ensure you don't forget a thing.
Schedule hair and makeup - Your photographer should have a hair and makeup artist that you can work with. Definitely go with their suggestion, as they can vouch for them and you can see past work in photos.
Buy your wardrobe - Follow the guidelines in the following section.
Clean up your diet - Diet is very important when you want your body to look its best. Avoid all foods that can cause bloat, such as carbs, gluten, sugar, and salt. Drink at least eight glasses of cucumber or lemon water a day to lose water weight.
Exercise - Concentrate on creating firm muscles, a lifted booty, and curves. Cardio is great, but it won't do much to change your body in the time between booking your session and getting in the studio. Free weights, crunches, lunges, and squats are your best friends.
How to Choose the Perfect Wardrobe
I help each of my clients with wardrobe selection, so don't panic if you need guidance. I use these questions to narrow down the types of pieces you should look for.
What is your favorite part of your body and what is your significant other's favorite part?
Breasts - Push-up bras, bustiers, sheer teddies and nighties highlight this area.
Waist - Bra and panty sets or a crop top with panties expose the abs.
Legs - High-cut bikinis, thong panties, and teddies will elongate the legs by showing off the hips. Pair with nude stiletto heels to add even more length to the legs.
Butt - Thongs all day long!
What parts of your body do you dislike or would like to downplay?
Arms - If you're self-conscious about your upper arms, choose a long-sleeved crop top or body suit.
Tummy - A corset will snatch your waist, give you an hourglass figure, and cover any surgery scars or stretch marks.
Thighs - Choose a lacy nightgown that hits right above the knee. A lacy robe worn over outfits can be draped around the thighs. Adding stiletto heels elongates the leg and therefore slims the thigh when standing.
Check out my curated Pinterest board with wardrobe ideas below!
Testimonial
"I had spent my entire adult life (had my 1st child when I was 19) making sure others' needs were met, while my needs were put on hold.

Fast forward to January 2017. At 53 years old, 30 years of marriage, and 40lbs of weight loss, I find myself in the middle of a divorce. I take a deep breath and tell myself "It's my turn now!" I wanted to feel pretty. I wanted to feel sexy. If not for anyone else but me. It's my turn now!

I found Dawn on the internet and browsed through her pictures. I saw a lot of young, beautiful women and I thought, "I'm 53 years old, I've got scars all over my body and wrinkles on my face, what am I thinking?" Then I saw a picture of Dawn. Her red hair is what got my attention. I loved it! I got the instant feeling, or "vibe" if you will, of a free spirit. After I met Dawn, that is exactly what she is..... A wonderful, warm, nonjudgmental free spirit!

I emailed her and started slowly. I was scared to death.I told her about my scars, my tummy, my hands, and several more of my flaws. She asked what I LIKED about myself. Wow, that was a tough one. I hadn't really thought about the things I liked about my body so it was a pretty hard question to answer. I said my eyes, my legs and my hair.

The day came for my appointment with Dawn. Oh my! I was a nervous wreck!! After about 5 minutes, Dawn's warm and loving personality had me at ease. It was one of the most beautiful, uplifting experiences of my life. For 3 hours I wasn't a wife, mother, or grandmother, I was a vibrant, sexy woman. Something I don't EVER remember feeling before.

Working with Dawn gave me a confidence in myself I thought I never had, a strength I thought I never had, power I thought I never had. To this day I feel empowered. I conquered a fear, and with the help of Dawn Kelly, conquered it successfully! It has literally changed my life!

Thank You Dawn, for everything. Thank You." ~ Cindy
Boudoir Photo Ideas
I love to give my clients a wide variety of poses so they have plenty of photos to choose from for their album. Here are some examples of poses and outfits to inspire you. Pin the photos from this guide to your boudoir inspiration board!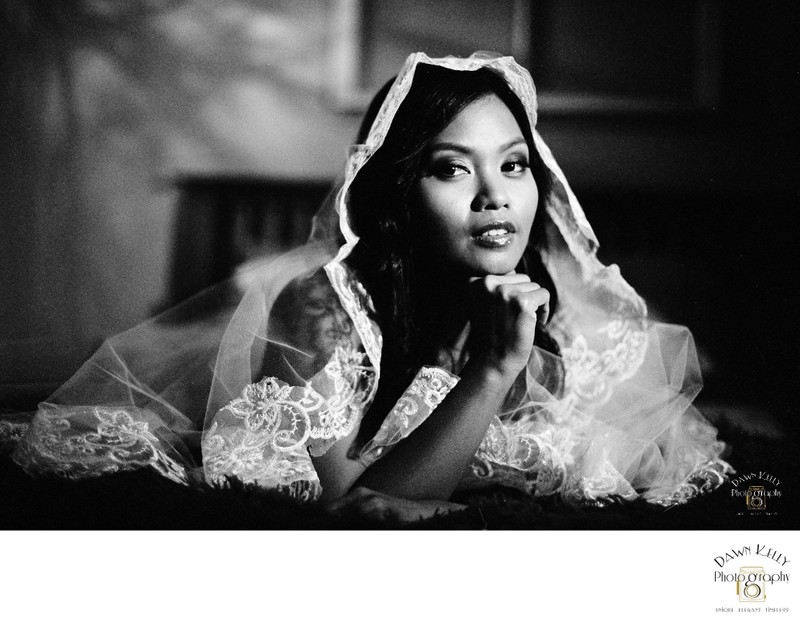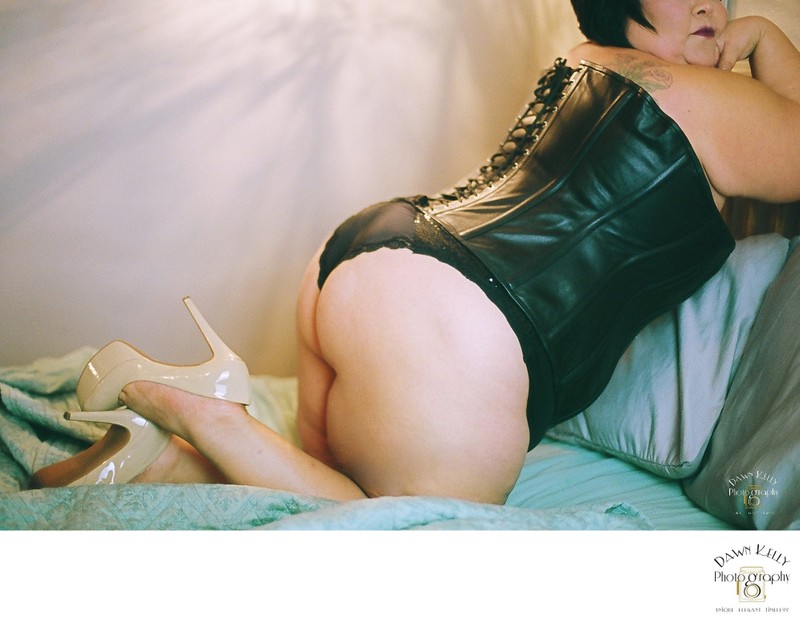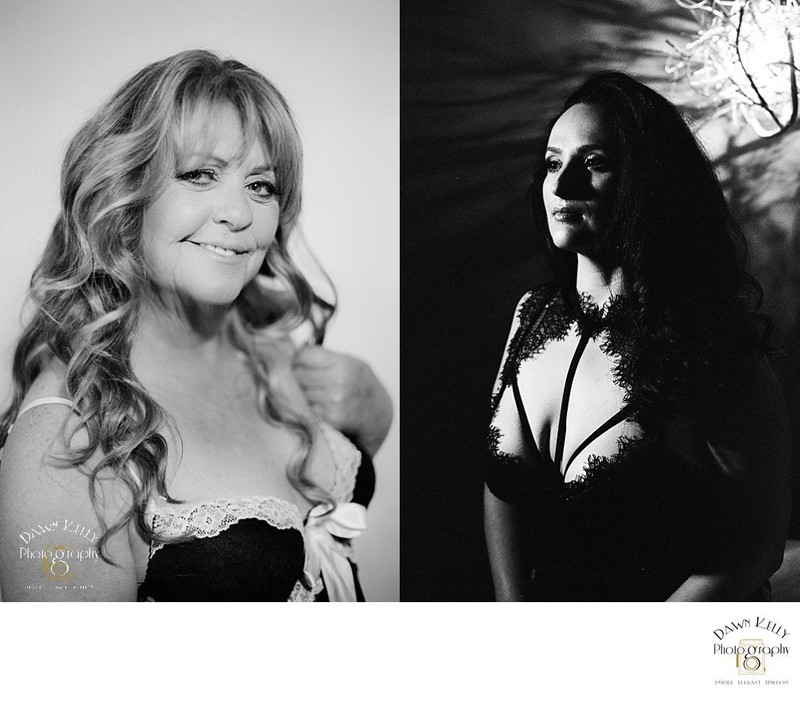 If you want to do a super unique shoot, we can go out on location!
Pricing
My boudoir session fee is $250. That fee includes my time photographing the session and light retouching only. The session fee is due at time of booking. When photos are ready, you'll come in to view them. At that time, you can choose which package you'd like to purchase. Your package price includes any additional retouching you request, an album, a print, and my upper-tier packages include a flash drive of images. Packages start at $575. Inquire below to receive details and a pricing menu.