Wedding FAQ
Style
Q: What is your photographic style?
Who I Am
I would say that I don't fit neatly into one "style." My weddings are a blend of photojournalism and classic photography. Our tagline says a lot about us: "Unique. Elegant. Timeless." I want your photos to be different than anyone else's. I want you to look at your photos and realize they are all about YOU, not about me. My biggest pet-peeve in wedding photography is overdone, overprocessed, overposed images that are done to show off. Your wedding isn't the time for me to show off, it's the time to capture you and your family as you are.
I have a strange lizard brain that makes it easy to read people and situations. I'm not sure, but I think I learned it from my dad. He taught me to watch everything around me all the time, to listen, and to shut up. (I'm not very good at the shutting up.) I use this lizard brain to capture moments that are fleeting, and therefore, easily missed.

I also listen to you when you explain the pulse of your wedding day so that I can give you images that will make you and your family relive the day in an authentic way.

I try to be non-obtrusive and hands-off when I shoot. The worst thing a wedding photographer can do is be obtrusive, in the way, and distracting. Believe me, your guests don't want to see my butt through your entire ceremony. You don't want my camera in your face all day long. You don't want to hear, "Wait! Do that again!" or "Pretend to do this" all day either. It's my job to capture your wedding as it is. Period.

Who I'm Not
One thing I definitely don't do is follow trends. If you're looking for a photographer who will work off a Pinterest board or copy poses from a magazine, I'm not the photographer for you. If I'm tied to a long list of photos, I won't be free to capture the artistic and photojournalistic images that drew you to me in the first place.
If you're looking for a super traditional photographer who will take only posed photos or a lot of photos of you smiling at the camera, I'm not the photographer for you. I will photograph you in artistic, romantic ways. I want to give you those sweep-you-off-your-feet images, those OMG-they-look-so-into-each-other images. My photography is all about emotional connection between you as a couple, and I don't feel I can capture that if you are just smiling at the camera.

Q: Do you shoot film or digital?
I shoot film! I love it because it's artistic and authentic. I like to use a mixture of 35mm and vintage Polaroid instant film. Typically, we only pull out the digital camera for embarrassing photos of each other. Read more about this on our About page.
Q: Can we give you a list of poses and photos?
You will receive a photography planner to fill out so we are sure to capture all the family photos you would like, as well as any special circumstances and events that bear special significance. However, repeated requests for posed images and having us work from a checklist is counterproductive to the artistry and natural style of our photography. Don't show up at the wedding and try to make me copy Pinterest photos all day. It ain't gonna happen.
Q: Can we get the black and white images in color?
No. All of my black and white images are taken with true black and white film, so the images can't be printed or scanned in color. If you have a preference, just let me know.
Travel & Coverage
Q: How much are your wedding packages?
Q: How many photographers will cover our wedding?

Each wedding is covered by myself as the main photographer and Mark as my second shooter. He also falls into the "assistant" role if something is needed. We pride ourselves in SUPREME customer service. We don't want to miss ANY shots. We also want to be able to help you if something goes awry. This requires us to have the man-power in order to do the very best job possible for you. And when I say "man-power," I mean sending Mark to photograph the men, get the bride a snack, pin boutineers on groomsmen, or grab supplies from our emergency kit.

Q: What if you become ill and can't photograph our wedding?
I would have to be hospitalized or dead to miss a wedding. I'm very tough and dedicated. This isn't the type of job I can call in sick to. However, if something tragic does happen, the first step would be for Mark to contact another husband and wife photography team in our area that has agreed to help us in an emergency. No matter what, someone very professional and talented will be at your wedding to take care of you.

Q: How many images do you take and how many do I receive?

That entirely depends on the length of your wedding and how many amazing, special moments and events take place. When we talk about giving you "full coverage," we mean that we will take photos of everything, from the bride's earrings to people gettin' down on the dance floor, and everything in between. I've been known to photograph the bride brushing her teeth, which was actually pretty cute.

On average, when we shoot a six-hour wedding, we take around 650 images and deliver approximately 600.

Q: If we go overtime the day of the wedding, will you stay?
Yes, absolutely. If things are running late, we would check with you about an hour before our time is up to see if we need to stay longer. If so, there is an overage fee, which is written into your contract. Any overage gets invoiced after the wedding, so you don't have to pay us anything at your reception, where you should be having fun.
Q: What if it rains on our wedding day and we can't do photos outside?
We have shot many weddings in the rain and have it down to a science. We can use umbrellas or get under trees and structures. We also have the ability to do portraits inside with portable flash and video lights. However, if you'd like photos outside and we aren't able to do so on the wedding day, we can schedule a post session at the location of your choice.
Q: What is a post session?
A post session is a portrait session sometime after the wedding, dressed in your wedding clothes. This is great if you really want outdoor photos but weren't able to do them on the wedding day. Popular post-session locations are the Monterey coast, San Francisco, and Yosemite. Post sessions are $600 ($500 for Platinum clients), and travel fees may apply.
Q: Do you travel? How much is it if you have to travel to shoot our wedding?
Yes! We love to travel and photograph weddings in new, exotic places, particularly Hawaii and Europe. Of course, we adore our usual destinations like Yosemite, San Francisco, and Monterey area. The cost of travel depends on where we are going and for how long. If it's within driving distance we quote a fairly reasonable price. If we have to fly and/or stay overnight, we ask that you cover our airfare (for two photographers) and hotel stay.
Q: We don't have a coordinator; how are we going to stay on time with photos?
During your pre-wedding consultations we will work together on a timeline for your wedding. Throughout the day we will do our best to stay on time, but we are not wedding planners or coordinators, so we can't be responsible for other vendors.
Q: Can our friends and family take pictures at the wedding?
Yes, absolutely. A wedding is a very special event that friends and family are going to want to remember with photos. People can take all the photos they want as long as they respectfully give us the "right of way" to take photos during important events. We have seen it all – family standing in the middle of the aisle at a church, people pushing us out of the way to get shots of the cake cutting, etc. We ask that we have a mutual respect and they don't use their flash, which can ruin our photos.
Q: Do you have your own photo booth?
Yes! We have a fun, hands-on photo booth that you can commission in addition to your wedding package. Check out our
Photo Booth web site
.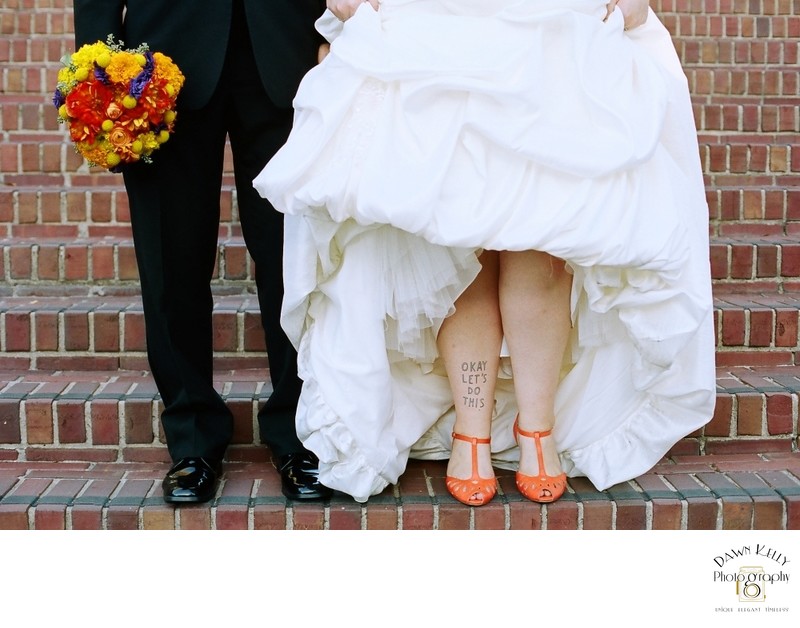 Business & Policies
Q: I saw on your web site that you limit the number of weddings you take. Is that because my wedding isn't good enough for you?
Absolutely not. In no way are we trying to be insulting, or make you feel like you're not good enough or cool enough. We do limit the number of weddings and elopements we accept, because we strive to provide the best customer service and quality of work possible. We can't do that if we are over-booked. We spend a lot of time with our clients, guiding them through the entire process, from the initial planning to the delivery of their album. The last thing I want is to take so many weddings that I burn out and lose the love for what I do, or worse, provide lazy or sub-par work. We are a boutique studio, so we take less weddings per year than most photography studios.
Your wedding photos will be one of your most precious belongings. You deserve to work with a photographer that you connect with, has the time to give your wedding all the attention that it deserves and that can capture the true essence of your personalities. We want to make sure we're a good fit, that you will have fun with us on your wedding day, and that you will LOVE your photos. That's the most important thing.

Many factors go into deciding which weddings we photograph, including (but not limited to) our calendar and travel schedule, number of current bookings, type of venue, and your specific needs/desires that you have for your special day.

Q: I live out of state (or out of the country). Can I book you over the phone or via email?
Sure! I've booked many weddings and elopements over the phone. We can have a telephone or video call consultation, and any paperwork that requires signing would be emailed to you. You can even pay online via Square. I try to make it as easy as possible.
Q: When will we get to see our photos?
You will get to see a large sampling of your photos within three weeks of your wedding! I know I know! Amazing ha?
We do have a bit of turn-around before WE even get to see the images. The professional photo lab we use is within driving distance, so we get our photos back in about two weeks. Once I get them, I immediately post some teasers on Instagram and Facebook, then I send you the photos I'll be using on the blog before I post it. Once all the photos are ready for viewing, we invite you and your family to come to our home, enjoy some champagne, and view a slideshow of your images. It's really fun!
Q: What if I do NOT want my photos posted online?
Our business model is built on showing our work on our web site, blog, and social media. This is how we grow as a business. If you don't want your images posted online, we probably aren't the photographers for you. However, if you still really want to work with us, I would draft a document stating the perimeters of holding back all images from the web, and there is a charge for that.
Q: Your contract says I can't use consumer labs, such as Walmart, to print my photos. Why can't I print my photos wherever I want?
We get this question a lot, which is understandable. This policy isn't in place to make things difficult for you, or to force you to buy prints from us. Simply stated, when you upload your photos to a consumer lab service, and you agree to their terms and conditions, you hand over all rights to those photos. That means they can use them any way they wish. This negates our contract.
In addition to the legal issues, they do a terrible job making prints. If your photos are important enough to you that you've hired a professional photographer and paid over $2,000, don't cheat yourself on the quality of your prints. You won't be happy with them.
Q: Do you have insurance?
Yes, we are fully insured. If your venue requires a certificate of insurance we can provide one for them.
Q: Do you offer Military discounts, mid-week discounts, or off-season discounts?
We do not offer discounts.
Q: How do we secure our date with you?
We require a contract and a $1,000 retainer fee to secure your date. As stated above, we can do this in person or online.
Q: I had to cancel my wedding. Do I get my money back?
No. The purpose of your retainer fee is to hold your date, and once you book that date, we turn down all other jobs for that date.