Where to Elope in Northern California
Was your wedding derailed due to COVID-19? Did you get engaged this year, but don't know how to make a wedding happen with all the restrictions? Are you tired of waiting because you just want to get married? You've come to the right place! We have experience working with couples from around the country who choose California as their wedding destination. Our all-inclusive elopement and microwedding packages ensure you will have a stress-free and beautiful experience. We provide planning, photography, flowers, officiant, hair and makeup, and more!
When eloping in Northern California, you have a large variety of landscapes to choose from. Whether you're attracted to the majestic mountain ranges of the Sierra Nevadas, the sandy beaches and rocky shore of the coastline, the lush redwood forests, the ancient Sequoia groves, or the majestic Yosemite National Park, you're sure to have epic wedding photos that will stun you and everyone you know. Look no further! We've gathered a list of gorgeous places you can elope in California. If you're interested in a location that isn't on our list, no worries. Just shoot us an email and we can plan something spectacular!
What is an Elopement?
You can look at an elopement as a kind of anti-wedding. Rather than spending a year planning a venue, bridal party, and reception, an elopement is more simple. We've planned elopements with less than two weeks notice. Typically, the bride and groom get married alone or with just a handful of guests in a location that is stunning and/or personal to them. There is no reception afterwards.
What is a Microwedding?
A microwedding is very similar to an elopement, but with a few more elements. These events involve approximately thirty guests or less and include some wedding day traditions, such as a cake cutting, a bride and groom dance, and a small sit-down reception or meal. The information provided in this guide applies to both elopements and microweddings.
Why Have an Elopement or Microwedding?
Convenience
The best part about such a tiny wedding is that you get to do whatever you want. You aren't held to venue rules about decor, vendors, or timelines. The sky is the limit. Want to get married at the top of a mountain? In a forest of pine trees? On the rocky coast of Pebble Beach? At the famous Fort Bragg? No problem.
Still want to have a reception but don't want to deal with the stress? A microwedding is perfect for you. Rather than agonizing over wedding details for a year, this size party can be planned and put together in a few weeks. Keep things as simple as you want. Have your wedding meal catered and brought to your home or a rented cabin near your ceremony location afterwards.
Authenticity
When you throw a big wedding, it's for everyone else. There's a reason guests are called guests. They are YOUR guests, and your wedding revolves around entertaining them. With a tiny, private wedding, no one will be complaining about the food, the music, or anything else. This gives you the opportunity to make the day 100% about you and the love of your life. Customize your wedding day to fit YOUR desires and make it an incredible experience that you will all reminisce about for years to come.
An Amazing Experience
Many of our couples choose to put together a weekend retreat for everyone to enjoy. Since you don't have to entertain 200 people, you can spend quality time with each of your loved ones in a fun environment. Plan local activities with your guests like nature walks, hiking, swimming, wine tasting, star gazing, picnics, etc. Bring a variety of games you can play together in the evenings. Put together a charcuterie board and pair it with wines from around the world. The options are limitless.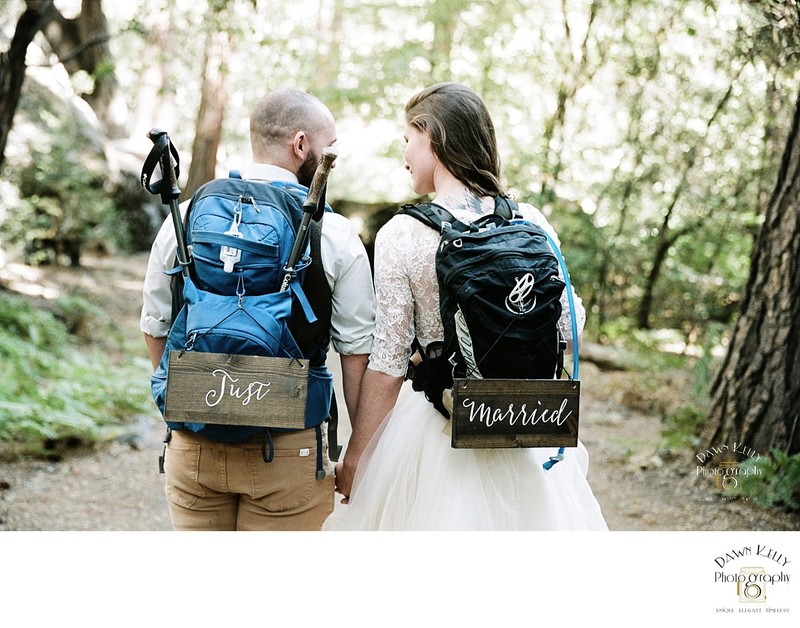 Cost
The biggest draw to this style of wedding is the financial savings. The cost of the average wedding in the United States is debatable because data from different sources state different things. With data lumped in with ALL weddings, including elopements, the numbers are skewed. A full wedding with a reception is between $30,000 and $40,000 on average. Of course, the sky is the limit, with many weddings coming in at well over $40,000. That's a lot of money that can be used for your future.
Safety
We know how hard this situation has been for you. Maybe you had a large wedding planned, but Miss Rona had other ideas. While it's true that some venues are breaking mandates and holding weddings with up to 300 guests, these events have not ended well. An indoor wedding reception in Maine is responsible for 85+ COVID cases and one death as of the writing of this article. There were only around 65 guests.
We understand that it's tempting to ignore mandates and move forward with the wedding of your dreams (in a venue or on private property), but it is not worth your life or the lives of your parents, grandparents, siblings, friends ... your loved ones and their loved ones. I'm sure these couples who are having large weddings that are responsible for deaths regret their decisions.
My dad always said, "Better safe than sorry." With an elopement or microwedding, you can still celebrate and have a memorable, beautiful day, while protecting your health and the health of your loved ones by keeping the guest list small and social distancing.
Photography
When photographing a full wedding, sometimes we only get twenty minutes to photograph the bride and groom alone. It's a shame to spend that kind of money on a wedding and a gown if you're left with only a handful of portraits of you and your significant other.
A small event such as this allows us to take full advantage of the scenery. We can drive from one location to the next, ensuring you'll have incredible variety in your wall art and album. You'll have all the time you want to explore and make those incredible artistic wedding portraits every couple dreams of.
Backyard Weddings
There are a multitude of benefits to having your wedding at your home or the home of a friend or relative.
It's a perfect setting for a private couple who wants a sentimental, simple, and intimate celebration.
Keep wedding costs down.
It's convenient. You'll have a bedroom to get ready in, a kitchen for food, and clean bathrooms.
You won't be held to venue fees or rules about decor, setup, and timelines.
It's easier to include your pets in the ceremony and photos.
It's your space, so customize it however you like!
Set up the night before to avoid extra stress on the wedding day.
Things to Ponder
Measure your space. Create a map of how you will lay everything out.
Unless you have a storage shed full of wedding items, rentals are needed for chairs, tables, linens, and table settings. Don't forget tables for gifts, cake, and other settings you may need. If it's going to get chilly in the evening, rent mushroom heaters to keep everyone nice and warm.
You must follow government guidelines and mandates regarding how many people can attend. If you break rules and regulations, you run the risk of being fined.
Educate yourself on city ordinances. You don't want neighbors calling the police because you're playing music past the cutoff time.
Make room in your refrigerators for food.
Make rules for alcohol consumption. Have someone responsible for pouring and monitoring alcohol. Have a plan so no one tries to drive after having too much to drink.
Your backyard isn't a wedding venue, so it's probably lacking light at night. If you're planning on having your small reception after dark, be sure to work on lighting beforehand. You'll need to bring in enough light so your photographer can capture those moments. At least three weeks before your event, start testing lighting setups.
Think about and plan where guests will park their cars.
Resources:
53 Head-Turning Ceremony Arches & Backdrops
Floral Ceremony Arches for Every Wedding Style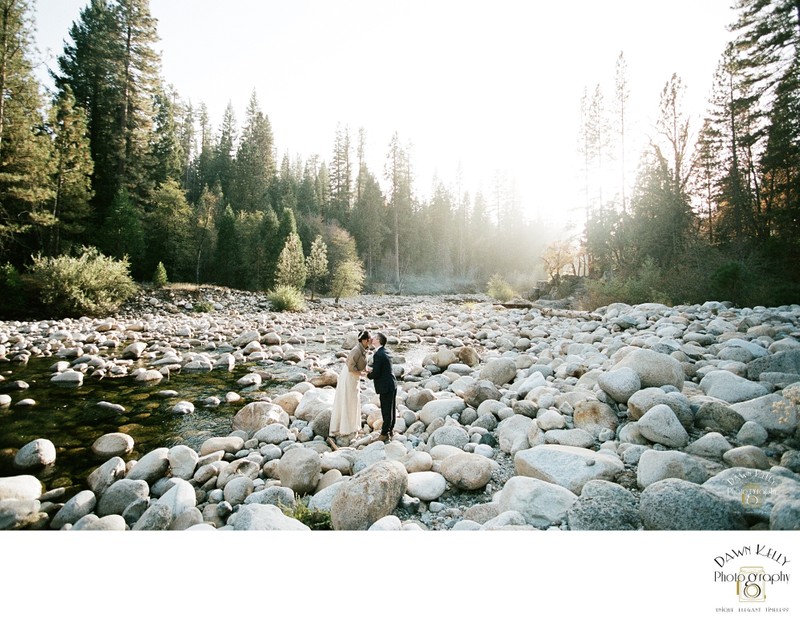 How to Elope in Northern California
While it's true that elopements are much more simple than weddings, planning is still required. We have experience working with couples from around the country who choose California as their wedding destination. We've gathered information on some of the best places to elope in Northern California.
How to Choose a Location
When it's time to choose your elopement location, think about what is best for you. Rather than listening to your friends and family, ask yourselves these questions.
Do we have a "special place" that is significant to us? Where did we get engaged? Where did we have our first date? Where did we meet?
What is on our bucket list? Are there parts of California we've been dying to see?
Are we beach people or mountain people?
How close to home do we need to be? Do we have family members who can't travel far? Are there any travel restrictions in place due to COVID?
What are our favorite activities? Do we like to hike, sight-see from the car, wine taste, explore the coast?
Should we put together a retreat for a long weekend so we can celebrate with our loved ones in an intimate setting?
Can we accomodate a microwedding at our home or the home of a loved one?
Does anyone we know own gorgeous property we can use?
Northern California Elopement Locations
Whether you love the mountains or the beach, Northern California is full of amazing spots for you to tie the knot!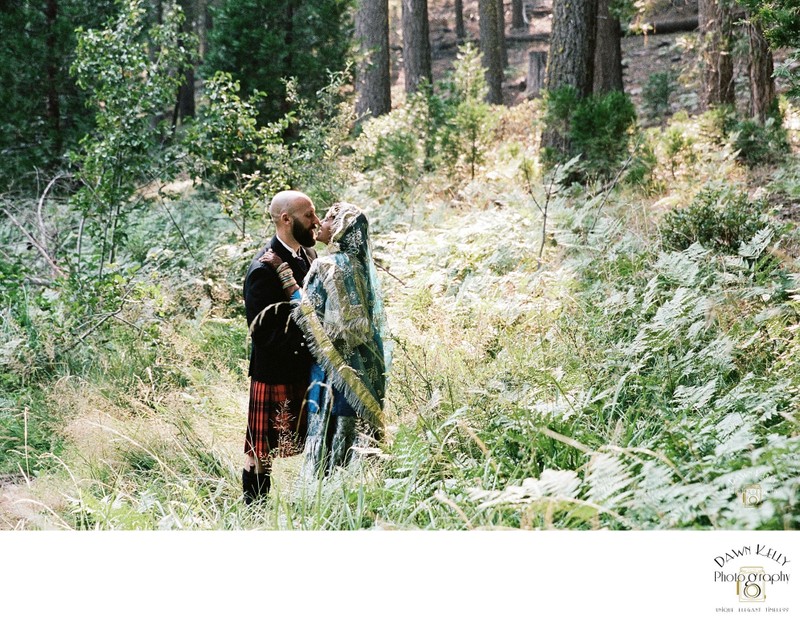 Sonora
Elevation: 1,825 - 2,946 feet
Accessibility: Year-round
Weather: Sonora has very typical weather for a California foothill town. The spring is beautiful and temperate with temperatures in the mid to high 70's. It starts to get hot at the end of May, and through the summer can be in the 90's. The fall is absolutely gorgeous with turning leaves and cool days with chilly nights. In the winter, it snows! It's a beautiful town year-round.
Sonora is a quaint Gold Rush town in Tuolumne County, on the western slopes of the Sierra Nevada Mountains. Downtown is adorable, Main Street lined with cute shops and amazing restaurants. The town is also full of adorable B&B's, hotels, and cabins. I grew up in this area, attending Sonora High School. I'm very familiar with Tuolumne and Calaveras counties.
Sonora Elopement Ideas
Rent a room at a historic hotel or B&B. Have the ceremony on a balcony or patio, then a private dinner in their restaurant after photos are done.
Rent a cabin through AirBnB or VRBO. Have the ceremony on the deck or grass and a private dinner reception there after exploring the area for photos.
Take unique wedding photos downtown with the cute shops and historic buildings.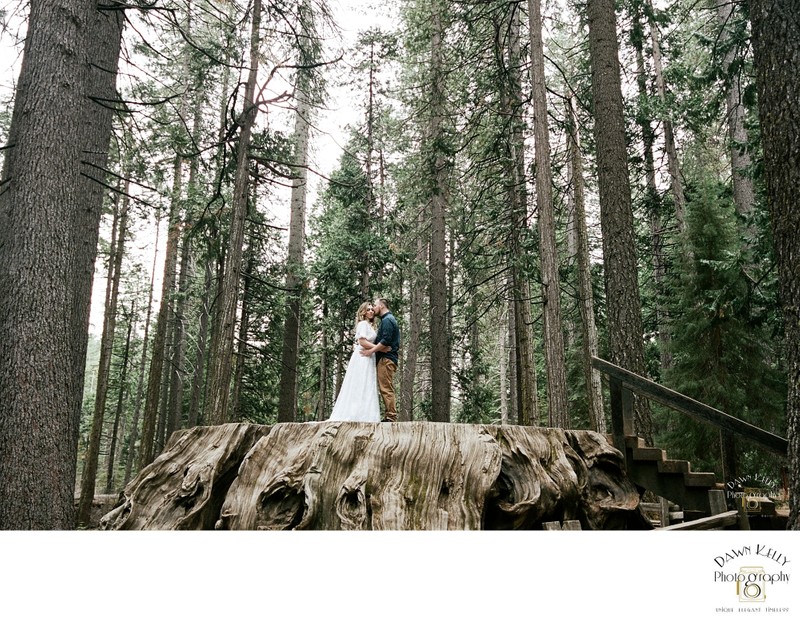 Murphys
Elevation:2,172
Accessibility: Year-round
Weather: Same as Sonora
Murphys is another quaint Gold Rush town in Calaveras County. This town is even cuter than Sonora with Main Street lined with shops, restaurants, and over twenty wine tasting rooms! This area is known for their California wines, and there are many large and small wineries and vineyards to choose from.
Murphys Elopement Ideas
Reserve the ceremony location at Calaveras Big Trees State Park! Get married among the largest living things on earth, the giant Sequoias. Spend the day taking photos in the park, then head to your cabin or hotel for dinner with your loved ones.
Rent a patio at a winery! Make it an experience for you and your guests with a wine tasting tour of town. Take your photographer with you, because this makes for sweet and unique wedding photos.
Rent a cabin and hold the ceremony and private dinner reception there.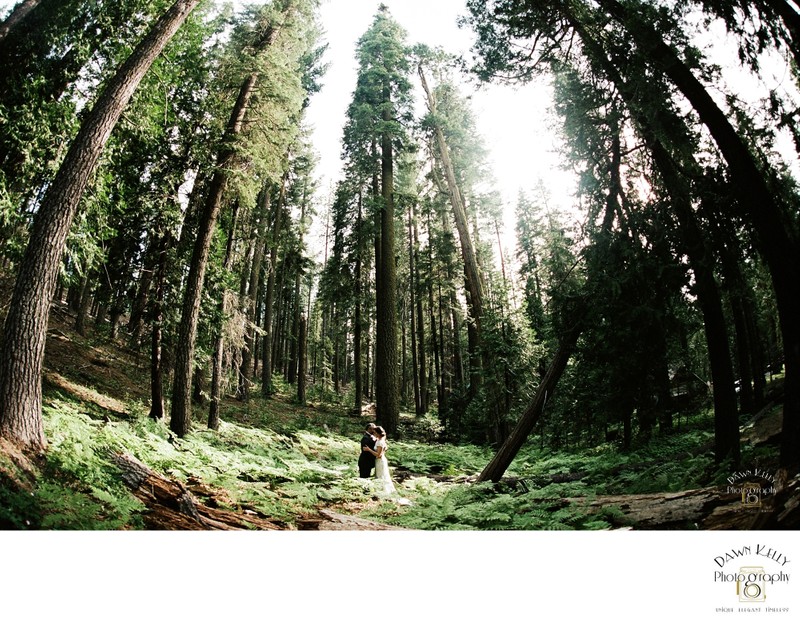 Pinecrest
Elevation: 5,679
Accessibility: Year-round with some roads closed during heavy snow
Weather: Pinecrest is home of Dodge Ridge Ski Resort, so you know it gets a lot of snow in the winter. I learned how to ski there in the third grade! The spring and fall are cool and beautiful with temperatures in the 70's. In the summer it can reach the 90's. Pinecrest Lake is perfect for swimming, camping, and hanging out.
Pinecrest Elopement Ideas
Lair of the Golden Bear: This area of Pinecrest has several retreat areas where they can accommodate a wedding of almost any size. Chanda and Nate held their retreat-style wedding at Camp Blue, where their friends and family rented tent cabins and they spent the entire long weekend together celebrating. During COVID restrictions, receptions are forbidden in California, so plan on a formal dinner instead.
Rent a cabin! The cabins in Pinecrest are all surrounded by beautiful landscape. Katie and Matt used his family cabin as home base, and they held their ceremony in the trees in front of some boulders. We took portraits until sunset, then all went back to their cabin to eat. It was perfect!
Pinecrest Chalet is a gorgeous resort with cabins, group retreats, and wedding services. They accommodate weddings of every size, including elopements and microweddings.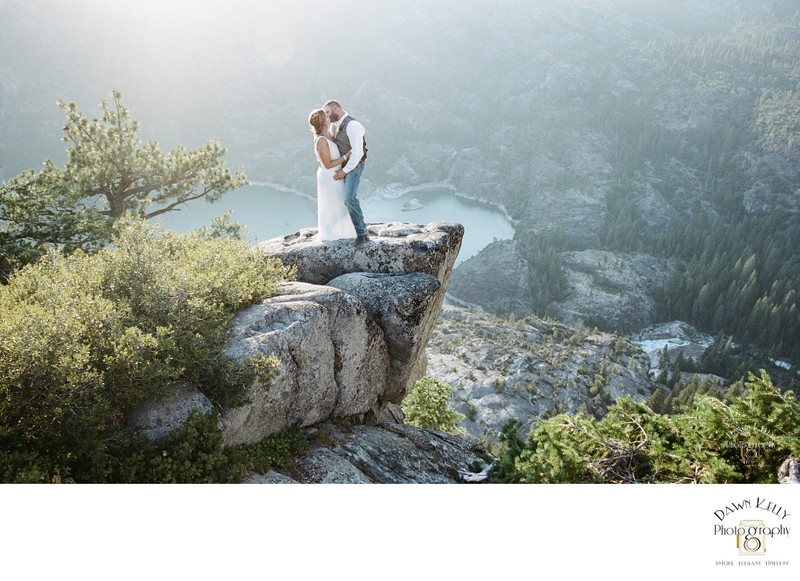 Donnell Vista
Elevation: 6,311
Accessibility: Spring through fall; snow is not plowed in the winter
Weather: Same as Pinecrest
Donnell Vista is a gorgeous recreational area with a 1/4 mile paved trail leading to an overlook with views of the middle fork of the Stanislaus River. This little area is jam packed with breathtaking scenery and endless spots for photos. Located just 25 minutes from Pinecrest, it's a convenient location for an elopement.
Donnell Vista Elopement Ideas
Rent a cabin nearby! You'll have a convenient place to get ready. After your ceremony and photos, spend time with your loved ones and enjoy a catered meal.
We took Katie and Matt to Donnell Vista at the end of the day to capture golden hour and sunset because it was so easy to drive from Pinecrest.
Sharice and Kyle were planning on getting married in Yosemite in July of 2017, but wildfires caused the park to close for a few weeks. The couple lives in the Pinecrest area, so they hopped in the car and scouted locations. When they found this spot, they fell in love with it. They brought their two children, a handful of family members, and their dog. It was intimate and stunning.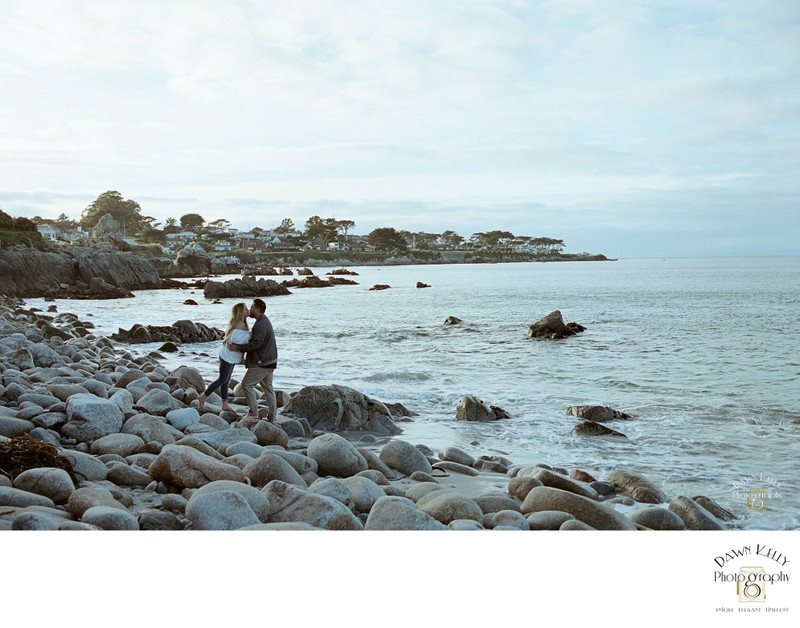 Monterey/Carmel
Elevation: Sea level
Accessibility: Year-round
Weather: The best time to get married on the coast of California is July through October. In those months, the weather is around 68 degrees during the day. It gets very chilly during sunset and after, so be prepared with a coat or wrap. The rest of the year, it's cold and windy.
Monterey is a beautiful seaside down, full of B&B's, hotels, cabins, restaurants, shops, wineries, and family attractions. There is no shortage of things to do with your guests. The beaches range from smooth rocks to sandy stretches and the parks are gorgeous and lush.
Monterey Elopement Ideas
Have your ceremony on the beach! Personalize the space to make it unique. Sarah and Tim included a cross and a sand ceremony in their wedding. There are a multitude of styles of arches and alters that can be rented and delivered to the ceremony location.
Don't just stay in one location. Monterey and Carmel are much more than just beaches. Take photos downtown on Main Street, inside a coffee shop, at the Carmel Mission, or at a winery to give your wedding album variety.
This area is known for adorable B&B's. Rent out the entire place and turn it into a retreat. You'll get to eat breakfast together, socialize, and relax. For dinner, have the kitchen cater a special dinner.
Lover's Point Park is a very famous location for weddings. We recommend using this space Monday through Thursday, as it gets very busy on weekends. I photographed my VERY FIRST wedding there! Ah... the memories... There is a huge tree to get married under with natural boulders, and of course, beach access.
Make a list of activities to enjoy with your guests, such as wine tasting, exploring Cannery Row, or visiting the Monterey Bay Aquarium. There are also ocean activities like kayaking. I got too close to a sea lion once and Mark yelled at me.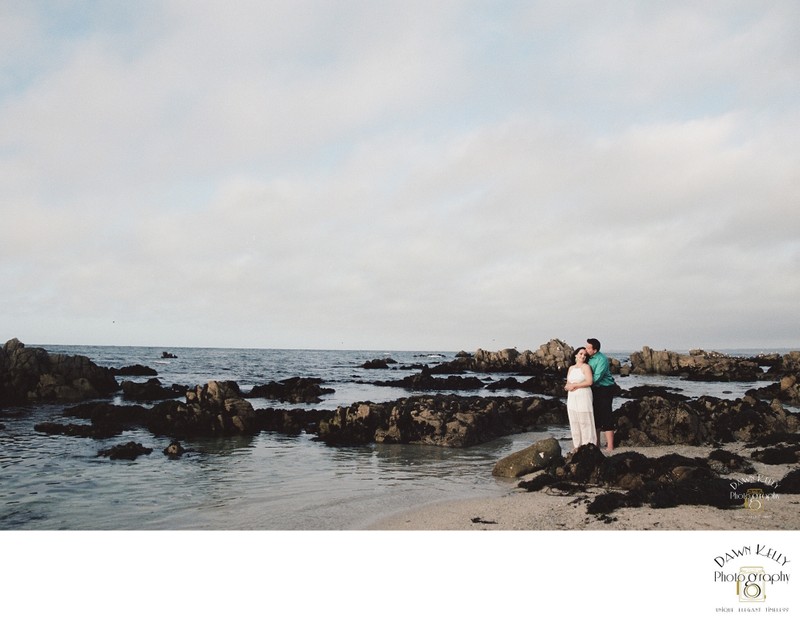 Pebble Beach
Elevation: Sea level
Accessibility: Year-round
Weather: Same as Monterey/Carmel
Pebble Beach is best known for it's famous golf course where celebrities compete in one of the most famous golf tournaments in the country. It's also known for their luxury resorts. If you're looking for an upscale experience, this spot is for you. Like Monterey and Carmel, this seaside town is full of amazing restaurants, shops, and activities. It is a bit smaller, more intimate and much more quiet. It's just a fifteen minute drive from Monterey. The beaches range from sandy stretches to very rocky tide pools and massive green cliffs.
Pebble Beach Elopement Ideas
Book rooms at a resort and have the ceremony on their private beach or in their private gardens.
Take photos in a variety of locations. To capture the essence of this area, your photos should include the rocky shores, the sand, and the cliffs overlooking the Pacific Ocean.
Reserve a private room at the resort for a formal dinner afterwards.
Schedule a round of golf for the day before the elopement.
Take the scenic 17-mile drive and drool over the gorgeous houses and lush scenery. This route goes through Pebble Beach and Pacific Grove. It's only a few miles from Monterey, so this option is great for any of these little towns.
Take some time to walk around the tide pools at low tide. They are full of beautiful and fascinating sea life.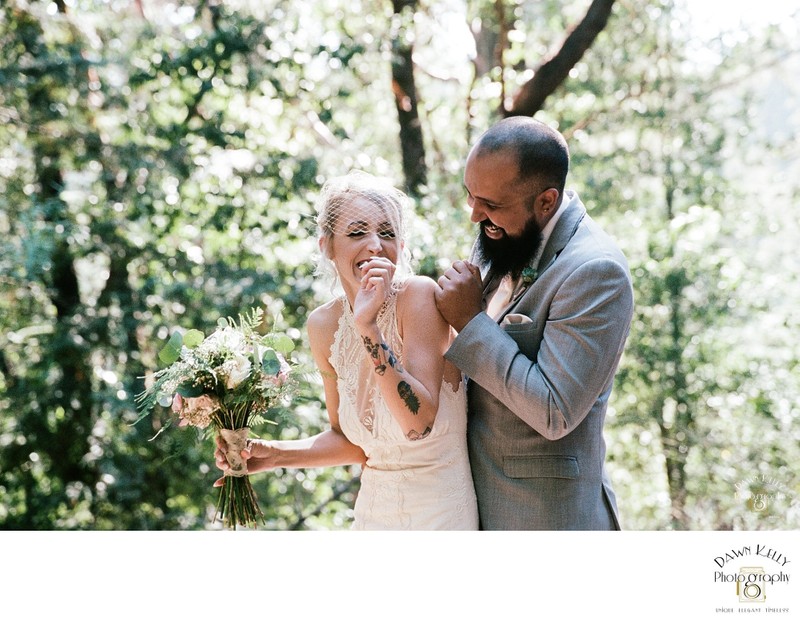 Santa Cruz Beach + Mountains
Elevation: Sea level to 3,786 feet
Accessibility: Year-round
Weather: The beaches are the same as Monterey/Carmel. The mountains get very chilly, the weather getting colder as you climb in elevation. We recommend July through October.
Santa Cruz is another coastal town, approximately 43 miles (50-minute drive) from the Monterey/Carmel/Pebble Beach area. It's best known for the carnival atmosphere of the famous Beach Boardwalk with it's roller coasters, game stands, and state-fair food. We don't recommend the popular beaches because they're always full of people, but there are several sandy beaches that are much more private.
Santa Cruz Elopement Ideas
Choose a private beach or a wooded area in the forest for your ceremony. What fits your personalities better? How private do you want your ceremony to be?
Take a variety of photos on the beach and in the mountains, showing the variety this area has to offer. For a fun experience and unique images, head to the Santa Cruz Beach Boardwalk. Play games, ride in the Sky Glider over the park, and go back to your childhood.
Rent a cabin in the mountains and have a BBQ after you're done getting married.
Make reservations for a restaurant patio for a formal dinner.
If you have children as part of your group, visit Seymour Marine Discovery Center, where you can touch sea life and enjoy views of the Pacific.
Visit UCSC Arboretum, a massive park with botanical gardens. Roam the paths of this tranquil and beautiful attraction.
Yosemite National Park




We specialize in all-inclusive Yosemite elopement and microwedding packages. Please see our free Yosemite Elopement Guide for details and pricing.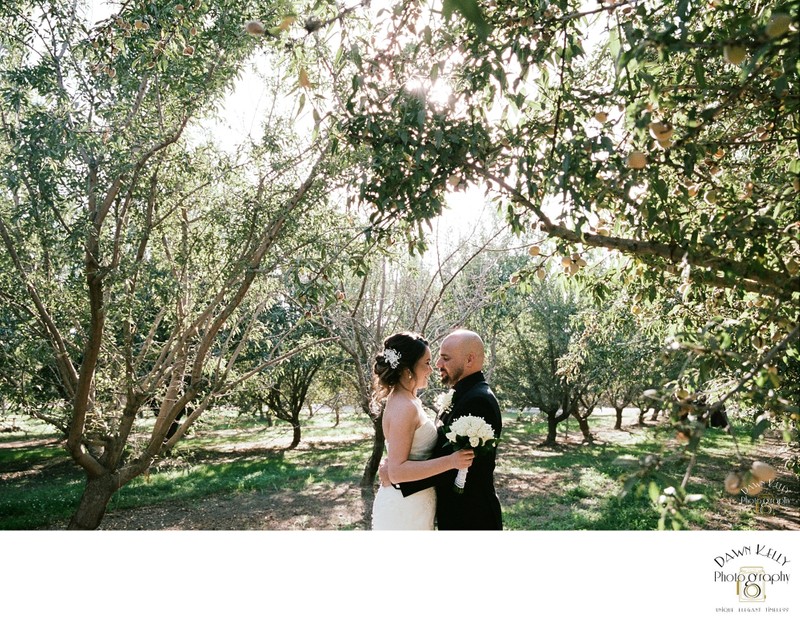 How to Elope in the Central Valley
If you live in California's Central Valley, you probably think you can't get married somewhere beautiful. Maybe you don't want to travel because you have small children or parents with health problems. Maybe you just want things to be as simple as possible. In any case, we can help you have a gorgeous elopement wedding day in the town where you live.
We are based in Modesto, California, which is in the center of the Central Valley. We travel throughout the valley to Modesto, Manteca, Stockton, Sacramento area, Tracy, Ripon, Madera, Merced, and more. If you're eloping in the Central Valley, there are a variety of options available to you.
Parks
There are beautiful parks throughout the valley. My favorite parks are ones that are natural and wild, with snaking trails, tall trees, lush foliage, and water. Ripon has two parks with river access that will make you feel like you're in the middle of the wilderness. Main valley towns like Modesto and Merced have city parks, but they are generally quite ugly and full of homeless, so you definitely want to choose a park that is off the beaten path. Spend a Saturday driving around and scouting. Or, if you work with us, we will help you find the perfect park!
Private Property
Because of COVID, thousands of wedding venues across the country are closing down for good. They just couldn't make it with all the cancellations. People have had to scramble to find a place to get married, and many are loving doing it on their private property or property owned by a friend or family member. See the "Backyard Weddings" section above.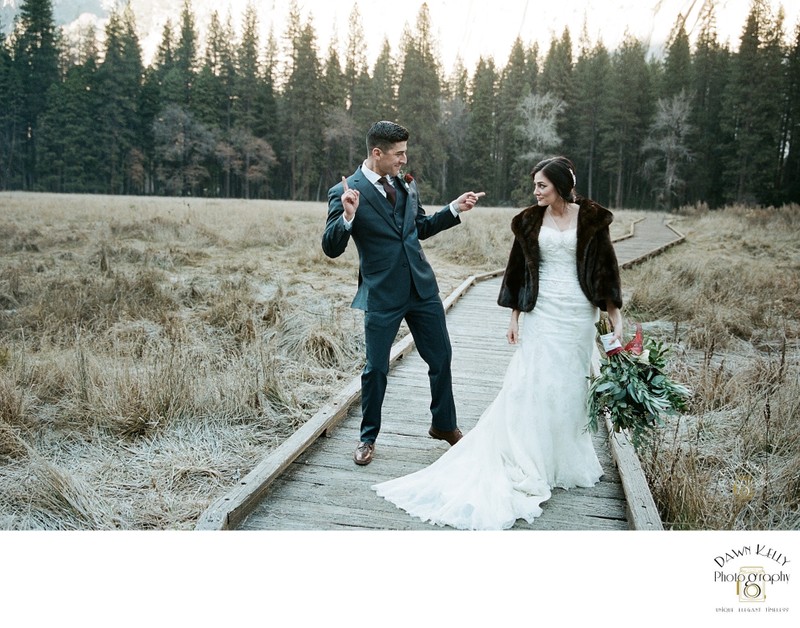 All-Inclusive Elopement Packages
This pricing is for non-Yosemite elopements and microweddings in northern California, including the Central Valley, Tuolumne County, Calaveras County, Monterey area, and Sacramento area. An elopement is classified as an event with less than 20 people that does not include bridal party or a reception. We do elopements on weekdays only. A microwedding is classified as an event with less than 30 people and a very simple reception or dinner with a cake cutting and other traditions. Custom packages are available!
Silver - $1,350
Planning
Up to two hours of full coverage – color, black & white film
4x6 proofs (150+ images)
Film Negatives
Flash drive of images
30-Day online gallery
Luxury bridal bouquet & boutineer
Add officiant for $450
Gold - $2,550
Planning
Up to three hours of full coverage – color, black & white film
4x6 proofs (225+ images)
Film Negatives
Flash drive of images
30-Day online gallery
20-page hand-made Italian photo album with dust jacket
Luxury bridal bouquet & boutineer
Add officiant for $450
Platinum - $3,750
Planning
Travel up to 100 miles
Up to four hours of full coverage – color, black & white film
4x6 proofs (300+ images)
Film Negatives
Flash drive of images
30-Day online gallery
30-page hand-made Italian photo album with leather cover
Luxury bridal bouquet & boutineer
Officiant
Contact Us
I'd love to hear from you! Fill out the form below and tell us a little bit about your special day.
Elopement & Microwedding Guide