Yosemite Elopement Guide & Packages
{Updated November 25, 2020}
If you're looking to have an elopement or microwedding in Yosemite National park, you came to the right place! We are the premier Yosemite elopement team. Our all-inclusive packages include planning, travel, photography, officiant, flowers, hair, makeup, and video. Whether you want a ceremony overlooking Half Dome, in the middle of a sun-filled El Capitan meadow, or along the Merced River, the majestic landscapes won't disappoint. Portrait possibilities are endless with the granite mountains, thundering waterfalls, ancient sequoia groves, and miles of meadows.
How to Elope in Yosemite National Park
This comprehensive planning guide will help you navigate your Yosemite National Park elopement. You will find information on
NPS paperwork
Marriage licenses
Ceremony locations
Seasonal weather conditions
Road closures
What to wear

Bringing guests
Bringing dogs
WiFi
Bathrooms
Dining options
All-inclusive packages
Current Conditions & Problems
When planning your Yosemite visit, review their Current Conditions page for weather, construction, wildfires, and road closures.
During the phased reopening of Yosemite National Park, please refer to their COVID-19 page for current information. As of right now, advance online reservations are required to enter the park. Please refer to their How to Make a Reservation page for detailed instructions on obtaining a day use permit. The park is being kept at half capacity. Elopements and weddings are restricted to a group of ten or less, including your photographer and officiant.
What is an Elopement?
The traditional definition of "elope", according to the Marriam-Webster dictionary, is to "run away secretly with the intention of getting married usually without parental consent." Think Romeo and Juliette. Times have changed and so has the elopement.
Today, elopements are intimate affairs that often take place in a beautiful, scenic location. The bride and groom exchange vows alone or with a handful of loved ones in attendance. The rest of the day is dedicated to exploring the area for the best wedding portraits. It's a simpler, more affordable way to have a destination wedding.
Yosemite is one of the most popular elopement destinations in the world. When you look at the photos taken in the park, you can see why.
What is a Microwedding?
You may have heard this new buzzword going around. A microwedding is a very small, intimate celebration that has a guest count of fifty of less. There is usually a small and sometimes casual reception at a restaurant or in the couple's cabin.
Why Elope?
Each couple has their own reasons for eloping. Most couples are drawn to the appeal of enjoying their wedding day without the stress of planning and managing a big ceremony and reception. The stress can lead to a dilution in the magic of getting married. You're joining your lives in a permanent promise to love each other forever. In a lot of ways, a wedding is for your family and friends. An elopement is just about you as a couple. Enjoy a personal and private experience that celebrates your love.
With the rising cost of the average wedding, an elopement can save you up to $40,000. Skip the expense of a large venue, extravagant florals, centerpieces, a DJ, favors, candles, decor, tables, chairs, linens, and a catered meal. Instead, save money for the important milestones of marriage, such as purchasing a home and having children.
Many of our clients have been down the aisle before and want to keep things simple their second wedding. Some are planning to join their children in a blended family and want a comfortable setting for them. Most have established households and don't need gifts from a registry. All want to save money.
You can use the trip as a honeymoon. Combining your dream wedding location with a vacation saves both money and time off work. Spend the day tying the knot and taking epic wedding photos. Then relax, explore, and hike in Yosemite's gorgeous landscapes.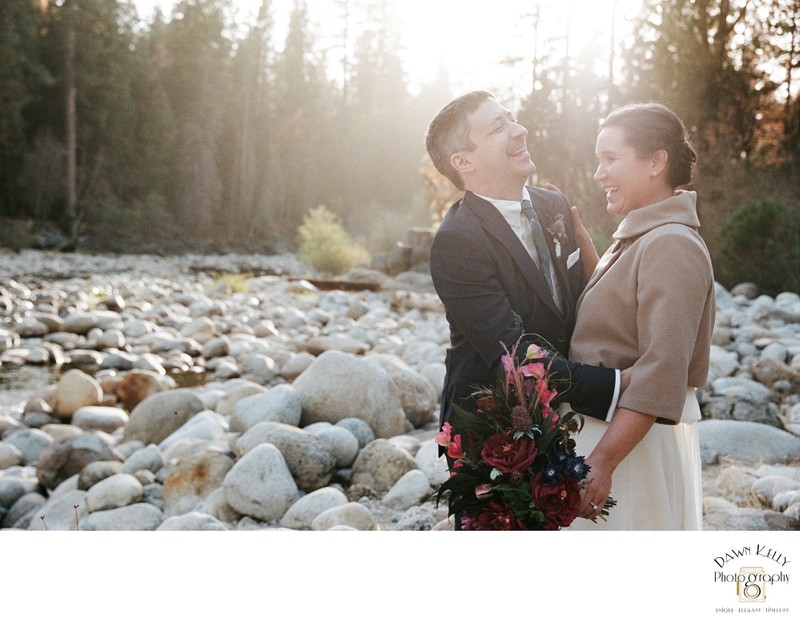 What to Expect
While working with us, your experience is streamlined and stress-free. Our packages include planning services, so I will guide you through each step of the elopement process. From choosing your package to helping you complete your album order, you're not alone.
Planning services include a 45-minute video chat in which I answer all questions and we discuss:
Airport information
Lodging recommendations
Ceremony location
Photo locations
Filling out NPS park permit

Obtaining marriage license
Ordering flowers
Suggestions on what to wear
Cake, dinner and catering recommendations
Hair and makeup recommendations
I'm available for unlimited emails, texts, and phone calls. I keep our clients up to date on NPS updates and park conditions. Each couple receives a detailed questionnaire to fill out for our officiant. You will also receive a fourteen-page planning booklet in the mail, which includes:
Checklists
Places for important information
Ceremony rules
Travel tips
Vendor information

Important emergency phone numbers
Groceries
Casual dining
Wedding dining
Park activities
Why Yosemite?
Yosemite is the most beautiful location in Northern California. It's so majestic that people travel from all over the world to visit. We've worked with couples from Japan, Australia, Canada, the Midwest, and the East Coast. Yosemite is the perfect place for an elopement because there are hundreds of gorgeous spots to explore for photos. You'll have the most beautiful collection of wedding images ever.


About Us




Yosemite has always been a special place for me because I grew up outside the park gate. It was a regular occurrence to hop in the car after worship on Sunday and spend a few hours exploring and hiking around the park. Some of my most treasured memories are things like playing tour guide to every family member who ever visited us, school trips with best friends, ice skating with my crush when I was fifteen, picnics with boyfriends, hiking Vernal Falls with my husband weeks after our wedding.

Because of the vast amount of time I've spent in the park, I know it thoroughly. I've mastered photographing in each location, understanding the light and knowing what each location looks like throughout the day. I also have a long list of unique secret spots that aren't used by other photographers.



I've teamed up with the best vendors I could find, and we have Yosemite elopements down to a science. Our special system provides a stress-free solution to a destination elopement that seems very daunting. Simply put, we are the experts.
Video by Fog Light Media
"Stop looking. Call Dawn RIGHT NOW. Seriously, if you are a bride or groom looking for someone to help you have the best day of your life- a day you can actually spend enjoying marrying the love of your life, not a worry or ounce of stress, and have it all captured beautifully...you need Dawn Kelly. If you want to hear our story, keep reading. Really, you don't need to keep reading to know that Dawn is the only choice if you want your wedding day to be a dream come true..." ~ Ashley & Bryan
To read the rest of this testimonial and to see more, go to our Testimonials Page.
Yosemite Ceremony & Portrait Locations
When choosing your ceremony location, there are several things to take into consideration. Guest count, time of year, accessibility, and restrictions determine which locations are available. Yosemite requires a special use permit, which costs $150. (This permit is necessary whether you are having an official ceremony in the park or not.) This permit reserves your ceremony location for two hours, ensuring you will have the space to yourselves. It also allows us to take photos throughout the park for 24 hours. Be sure to consult Yosemite's Weddings Page for in-depth information on permits and other information. Consult their Ceremony Locations Page for specific elopement ceremony locations.
Views of Yosemite Valley, Half Dome, Yosemite Falls, and Yosemite's high country
7,214 feet elevation, 3,214 feet above Half Dome Village (on the valley floor)
Group capacity 50
Accessible by car from approximately late May through October or November*
Two large parking lots offer plenty of parking
Short, paved (wheelchair accessible) trail takes you all the way to the point
Pit toilet bathrooms (the flush bathrooms have been closed for two years)
Glacier Point is my favorite spot to photograph couples because of the majestic views of the valley, mountain ranges, and Half Dome. This is a stunning spot with beautiful scenery for a ceremony.
*Glacier Point Road will be closed for the entirety of 2022 for road maintenance. It will be open the entirety of 2021.
Views of El Capitan, Half Dome, Three Brothers, and Bridalveil Falls
4,400 feet elevation
Accessible by car year-round
Two medium sized parking lots offer parking, and it's tough to get a parking spot when the park is crowded.
Short, paved (wheelchair accessible) access right off the parking lots
No bathrooms
Tunnel View is a dramatic landmark as you head to Yosemite's valley from the route 41 entrance. Between Yosemite's valley and Glacier Point Rd, it was designed to astound drivers as they pass through the Wawona Tunnel on their way into the park.
Photo opportunities are limited, as it's just two parking lots with a rock wall.
Tunnel View is one of the ceremony locations listed on Yosemite's web site. It's not ideal for a ceremony because there is zero privacy. Tour buses are constantly arriving, unloading excited tourists. This is also a favorite spot for landscape photographers, who stake their claim and refuse to move.
4,000 feet elevation
Accessible by car year round
Tons of lodging, including Big Trees Lodge and cabins inside The Redwoods in Yosemite
Access to the Merced River
Mariposa Grove is located in Wawona.
Activities include horseback riding, hiking, camping, bird watching, fishing, golfing
"Wawona is like a bright green emerald set between the sparkling diamonds of Yosemite Valley's waterfalls and the red rubies of the Sequoias in the Mariposa Grove." – Yosemite visitor, early 1900's
I have fallen in love with the huge area of Wawona! Did you know that the valley is only 5% of the park? Don't miss out on the variety the park has to offer. If you stay in Wawona, there's great opportunity for us to explore the area and work our way towards the valley.
This area will be under restoration in 2020
3,966 feet elevation
Accessible by car year round*
One medium-sized parking lot; very difficult to find parking on busy days
Paved trail (wheelchair accessible) takes you to the base of the waterfall, or into a wooded area with the river rushing through
Pit toilet bathrooms
*Bridal Veil Falls area is under restoration for 2020 and 2021 and therefore closed to ceremonies and wedding photos.
The Merced River
The Merced River runs through the entire park, starting in the upper country. There are many gorgeous spots in Wawona and the valley.
Valley View
3,966 feet elevation
Accessible by car year-round
Located along Northside Drive immediately before Pohono Bridge
Access to the Merced River
Views of El Capitan, Three Brothers, and Bridal Veil Falls
Pit toilet bathroom
This little spot looks out at the valley from the western end of the loop. There is a small parking lot with about ten parking spots. Photo opportunities are limited and ceremonies aren't possible here.
5,600 feet elevation
Group capacity 30
Accessible by car April through November
Large parking lot with 300 spaces
Access to the Merced River
Mariposa Grove is located in Wawona
Flush bathrooms
A shuttle bus is taken from the visitors' center to the grove*
This is Yosemite's largest and most mature Sequoia grove, with over 500 mature trees. Some were adult Sequoias when Christ walked the earth. During the Civil War, President Lincoln signed legislation protecting Mariposa Grove and Yosemite's valley. It became "public use, resort, and recreation," protecting it for future generations. In 1906, the grove was made part of Yosemite's official park. This was a landmark decision and the first of its kind, which led to the National Park System.
*There will be no shuttle service from the visitors' center to the grove during summer 2020 due to COVID-19. The grove can be accessed on foot with a two mile hike along Washburn Trail or the Mariposa Grove Road.
Yosemite's Wooden Walkways
Yosemite's valley is connected with pathways and wooden boardwalks. The entire valley is accessible on foot or bicycle. Many of these wooden walkways stretch across protected meadows and wetlands, protecting wildlife. All these unique boardwalks are accessible from parking lots and easy to get to for creative portraits.
These walkways look very different in each season, the landscape changing from green ponds to fall foliage as the year progresses.
Views of Yosemite Falls
Located on the bank of the Merced River
Group capacity 100
3,966 feet elevation
Accessible by car in the dry months, closed during rain due to mud
One small parking lot with around a dozen spaces
Dirt and sand to walk on
Pit toilet bathrooms
If your Yosemite wedding is on the larger side, Sentinel Beach is a great option. With the Merced River and views of Yosemite Falls, the backdrop is ideal for your ceremony. In the fall, this area is the first for fall leaves.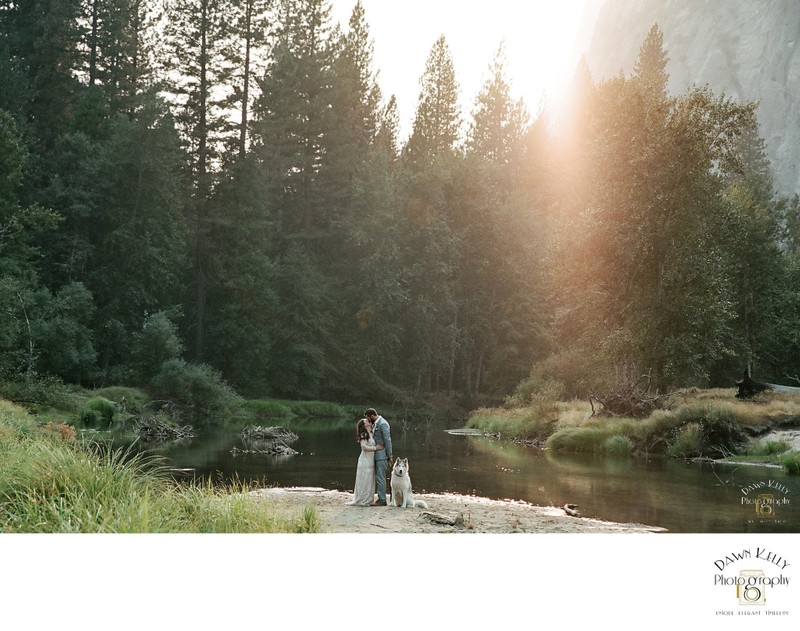 Views of El Capitan
Located on the bank of the Merced River
Crowd capacity 50
3,966 feet elevation
Accessible by car in the dry months, closed during rain due to mud
One small parking lot with around a dozen spaces
Dirt and sand to walk on
Pit toilet bathrooms
This little beach location is nestled in the woods along the Merced River, providing a quiet and private ceremony location. With El Capitan and the Merced River, the scenery is perfect for wedding photos.
Views of Yosemite Falls
Located on the bank of the Merced River
Group capacity 20
3,966 feet elevation
Accessible by car year-round
One small parking lot with around a dozen spaces, very tough to find parking on busy days
Paved paths (wheelchair accessible) take you back to several meadows and the bank of the Merced River; to the right is a large meadow with views of the falls
Pit toilet bathrooms
This area has a lot to offer and is gorgeous in every season! With a bridge, meadows, trails, woods, and the river, there are plenty of wedding photo opportunities. In the spring, the river is high and rushing, with as is Yosemite Falls in the background. In the fall, the river is so low that you can walk around in the pebble-filled riverbed.
*This area is currently under restoration. The meadow to the left of the footbridge is closed to foot traffic.
Views of Yosemite Falls
3,966 feet elevation
Group capacity 30
Accessible by car year-round
A large parking lot across the road at Yosemite Valley Lodge provides plenty of parking
Paved path (wheelchair accessible) take you to the base of Lower Yosemite Falls
Flush bathrooms
This area is set up with a convenient and beautiful ceremony spot. Granite steps form the wedding alter and small boulders encircle the space. It's a perfect location if you have elderly family members and guests because it's an easy, flat walk from Yosemite Valley Lodge across the street. There are also a multitude of wedding portrait locations in the trees and along the Lower Yosemite Falls Trail.
El Capitan Meadow
Views of El Capitan and Cathedral Rocks
Group capacity 10
3,966 feet elevation
Accessible by car rear-round
Parking along Northside Drive
No bathrooms
This vast and gorgeous meadow is gorgeous year-round. In the spring, it's lush and green. It's especially beautiful in the fall with golden grass and changing leaves. Located in the middle of the valley, it is a convenient location for ceremony and portraits. We love to use the fallen tree at the El Capitan outlook, where you can see teeny tiny climbers ascending the granite face.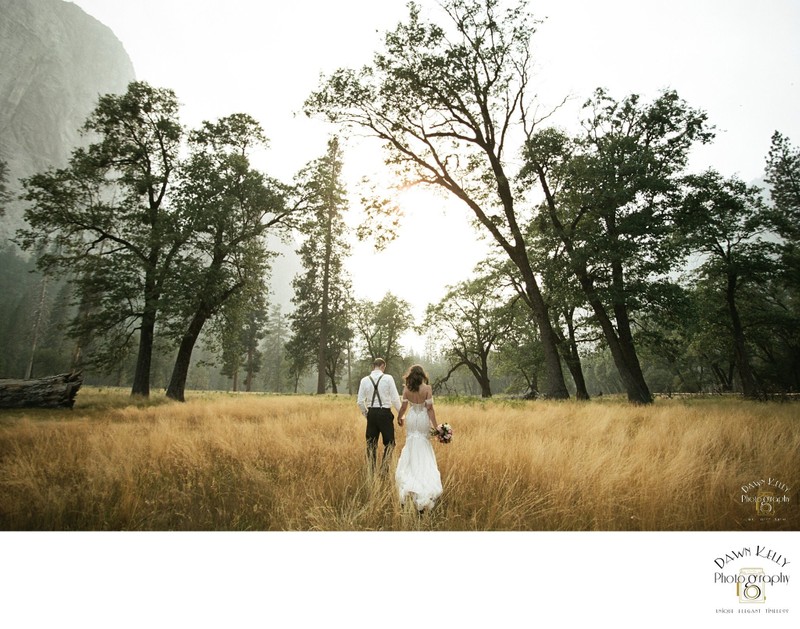 Yosemite's Gorgeous Meadows!
Yosemite valley is full of meadows, and each one provides a unique majestic view. These grasslands, lush and green in the spring and golden in the fall, are perfect backdrops for wedding photos. Don't forget that meadows are ecological systems where wildlife lives. The ground is like a sponge, absorbing water and holding it underground. Meadows are full of endangered wildlife and plants, so don't go out of bounds and walk in closed meadows.
Outside the valley, you can explore and hike around Tuolumne Meadows.
Yosemite's Nooks & Crannies
I've had the pleasure of photographing over fifty Yosemite elopements and weddings. Throughout that time, I've found many spots that other photographers don't use. This park is so vast, we could explore for years and continue to find new and interesting locations.
Things to Ponder
When eloping in Yosemite, there are a lot of factors to consider. Who should you invite? What should you wear? What paperwork is required? What about wedding dining? Don't worry, we have your best interest at heart. We will guide you through everything you need to know.
Should you bring family?
Do you have children? Do you have a close relationship with your parents? Have your grandparents dreamed of seeing you tie the knot? Are your best friends like family? While many couples elope alone, others can't bear the thought of not having their loved ones there to celebrate with them.
An elopement is all about the bride and groom, so you as a couple must decide who you will invite and who you won't. Your third cousin twice-removed might be offended, but you haven't talked to her in years, so who cares! Don't let family members pressure you into expanding your guest list. Setting boundaries is very important with the size and the details of your day. You're doing an elopement instead of a big wedding for a reason. When you send invitations, let people know who else is invited so they can skip the awkward, "Are you going to Jane's elopement in Yosemite? ... No? ... Oh sorry..."
Having your closest family and friends at your ceremony has several benefits.
Your mother, sister, or best friend can help you get ready the morning of your nuptials. This is always a special and emotional part of the day.
Having these special guests at your ceremony creates irreplaceable, authentically emotional moments that can be captured on film and kept forever.
If you have kids, you can make them part of the ceremony, making them feel included in the joining of the family.
After the ceremony, we take family portraits. These photos commemorate your family on the day you joined your families as one.
You can share your wedding meal with the people you love, whether it be in a restaurant or a catered meal in your cabin.
How does the ceremony work? What about licenses and permits?
I help each couple organize their ceremony, including:
Choosing a location that best suits their needs
Putting together a timeline
Guidance in applying for their NPS permit
Guidance in getting their marriage license
Setting up the ceremony the day of
If you choose to work with our officiant, the process is easy and streamlined. You will be provided with a questionnaire so you can tell us about yourselves and your relationship. Once completed, you'll have a phone consultation with the officiant. Each custom wedding ceremony is crafted to each couple's needs. All types of ceremonies are available, including non-denominational, Catholic, and other religious ceremonies. Sand ceremonies are also available and provided by the officiant.
Yosemite has ceremony rules and guidelines. A group of ten or less may use any ceremony location, or can plan to wed in areas that are off the beaten path. A group or eleven or more must reserve a location on Yosemite's ceremony location list.
Within the confines of Yosemite National Park, a wedding permit is required for all ceremonies and wedding portraits. The permit costs $150 and also allows us to take portraits throughout the park that day.
You can get your marriage license at any County Clerk's office in California. There's no waiting period and the license is good for 90 days.
For details, check out my FAQ license and permit blog.
Can I have my dog in my ceremony and photos?




Many couples see their pets are children, and want to bring them along to their elopement. Yosemite has strict guidelines for having dogs in wedding ceremonies. We've created an entire guide to help you with this, so hop over there for park rules, ceremony guidelines and tips, pet-friendly lodging, and much more!



Weather in Yosemite National Park
When getting married in Yosemite National Park, you must consider weather conditions. Each season has its unique elements you should be aware of while choosing a date for your elopement.
Spring is peak waterfall season and the park is lush and green. Waterfalls are a universal symbol of Yosemite. Including them in wedding photos inserts time and place to your images. Meadows can be muddy in the spring, so be prepared with hiking shoes that will keep your feet clean and dry. Spring can also be rainy, but the showers are sporadic and light. We are experienced working in the rain, always having big black umbrellas on hand just in case. Check the park's current conditions page to see weather conditions, road closures, and possible flooding. You can expect the temperature to be between 65-75 degrees.
Spring El Capitan Meadow Elopement: Mariko + Jesse
Summer has fantastic, sunny weather but the crowds make it difficult. We do not work in the park during the summer months because it's too difficult for us to drive around the park. We are not adventure elopement specialists, so we don't hike into the wilderness with our clients. We drive around the valley and up to Glacier Point.
You can expect warm temperatures that don't usually climb above 90 degrees.
Yosemite gets about 3.5 to 4 million visitors per year. This means that during the summer weekends, it will be you and 40,000 of your closet friends visiting the park. More info on visitation stats can be found at https://www.nps.gov/yose/planyourvisit/visitation.htm.
*We have opened August 2020 to elopements because of the park being at half capacity.
Fall in Yosemite is the most beautiful thing I've ever seen. While it's true the waterfalls have mostly dried up and the river is low, the fall leaves and ability to shoot in the riverbeds make it all worth it. The trees start to turn in late-September to early-October, depending on the weather. By mid-October, the park is full of yellow, orange, and red leaves fluttering to the ground. In November, the colors are even more prevalent.
September is still fairly dry, and once October rolls around, there is chance of rain. We aren't deterred by rain, and just run around the park with our umbrellas. You can expect the temperature to be between 60-75 degrees.
Fall Yosemite Elopement: Brenda + Fabian
Winter has challenges for sure. Couples who choose a December or January date are hoping for snow, but there's no way to know what the weather will be like. There's a chance the park will be a winter wonderland, full of snow and fog. On the other hand, it can be raining and muddy.
Glacier Point Road is closed from October to May due to icy roads, so taking portraits at Glacier Point isn't possible during the winter. A few valley spots are also closed due to mud. You can expect the temperature to be between 25-65 degrees.
Winter Wonderland Yosemite Elopement: Kelli + Scott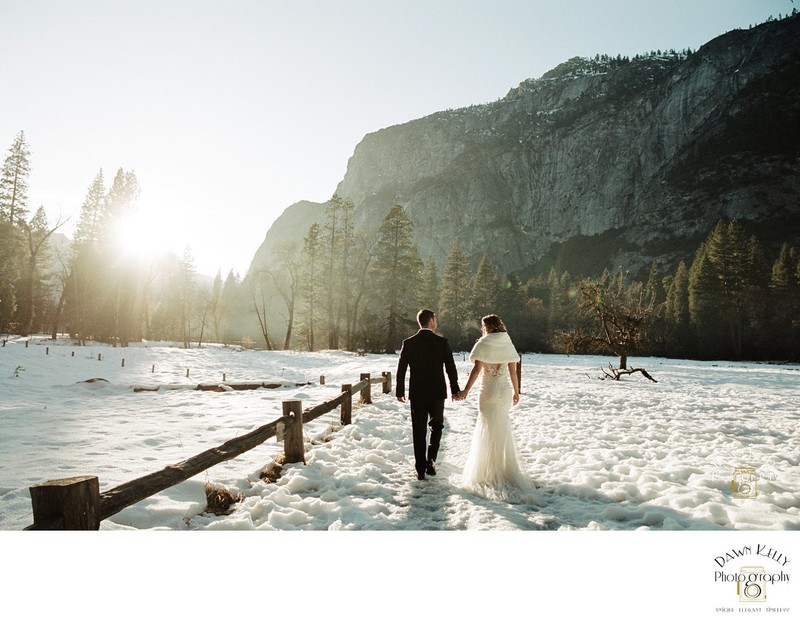 Bathrooms

OK guys, I'm about to get real. Let's talk about the bathroom situation in Yosemite. It's bad, guys. It's real bad.

I've created this Yosemite Bathroom Guide to help you navigate the bathroom situation.

Where to find clean, flush bathrooms
Details on pit toilets
List of items to bring for comfort and sanitation
WiFi
If you have Verizon as a cellular carrier, you'll have the best service in the park, but it'll still be very spotty. If you're in need of WiFi, you can go to the following hot spot locations in the valley:
Half Dome Village Clubhouse
Yosemite Village Store
The Ahwahnee Hotel Lobby & Restaurants
Yosemite Valley Lodge Hotel Lobby & Restaurants
Wawona Store
Altitude Sickness
Altitude sickness is no joke. My first time shooting in the summer at Glacier Point (7,500 ft elevation), it was 90 degrees and I ended up dizzy and throwing up violently. This really shocked me, because I grew up in the area, at high elevations, and I've never had it happen before. If it can happen to me, a local and regular to the park, it can happen to you, your family, or your guests.
Most people are fine in Yosemite Valley (4,000 ft elevation). It's when you start to climb to Glacier Point and the back country that you need to worry. When it's hot, it's ten times worse, because of what the heat does to the air. Because of the thin air at higher elevations, it's harder to get enough oxygen into your blood, and therefore your brain. That's why the first symptoms are numbness in your hands, dizziness, and labored breathing.
As soon as you start to feel this way, sit in the shade, take some really deep breaths, and sip some water. It should pass in five minutes or so. We always have ginger candy and water in the car, so if you get nauseous, you have something to help before you start vomiting. If you do vomit, it's okay, I won't judge you, because I've done it too!
What to Wear

An elopement is about you, not 150 guests murmuring about the food they don't like and the dress they think isn't traditional enough. Do things your way and choose to wear whatever you want. Whether you choose a ball gown, a Boho crochet dress, a lace fitted mermaid gown, or your grandmother's tea-length vintage wedding dress, wear something that fits your personality and your vision of the day.

Wear shoes that will keep your feet comfortable, clean and dry. If you're going to tromp through meadows and climb on rocks and fallen trees, you'll need shoes with grip to keep you safe. In the fall and winter, when it's cooler in the park, bring a wrap or cute jacket. Many of our clients choose vintage furs, which adds a unique twist to their styling. Others have worn custom jean jackets or crochet shawls.

Check out our What to Wear board on Pinterest!
Wedding dining
Casual dining
Grocery stores

*Due to COVID-19, there have been many changes inside the park. Some restaurants are closed while others are restricted. This is a list of what's available in 2020.



Yosemite's Rules & Guidelines
Be kind to nature. Do not enter meadows and wetlands that are protected. Heed all signs.
Do not pick foliage or take anything home with you, including pine cones, rocks, branches, etc.
Do not bring plants into the park that are forbidden. This can affect the delicate ecosystem.
Pick up your trash. Use the bear-proof trash cans and dumpsters. Put all recycling in the green recycle cans.
Do not approach wildlife or try to feed them. This was their home before it was ours. Leave them in peace.
Keep food in bear-proof containers when hiking and camping.
Camping is only allowed in designated sites.
Follow all campfire guidelines.
No hunting of any kind.
Park in designated parking spaces only. Do not stop in the road or block traffic.
Bicycles are only allowed on paved roads, paved trails, and wooden boardwalks.
Follow all pet rules.
Resources


All-Inclusive Yosemite Elopement Packages
As a documentary-style wedding photographer, it's my job to tell the story of your one-of-a-kind day. I want to make sure we're a good fit, both in style and personality, so I can capture the true essence of your day and who you are as a couple. Supreme customer service and quality of product are extremely important to me, so time constraints prevent me from accepting every job.
Silver Package - $4,680
Planning Services
Planning Workbook
Travel
4 hours of photography
4x6 prints – approximately 200+ images
Flash drive of high-resolution images
Film negatives
Luxury bridal bouquet & groom boutonniere*
Add officiant for $500
Gold Package - $7,130
Planning Services
Planning Workbook
Travel
5 hours of photography coverage
4x6 prints – approximately 250+ images
Flash drive of high-resolution images
Film negatives
20-page hand-made Italian photo album with dust jacket
Professional hair & makeup for the bride*
Officiant
Luxury bridal bouquet & groom boutonniere*
Luxury Platinum Package - $11,325
Planning Services
Planning Workbook
Travel
6 hours of photography coverage
4x6 prints – approximately 300+ images
Flash drive of high-resolution images
Film negatives
30-page hand-made Italian photo album with leather cover
6 hours of video coverage*
15-20 minute feature film*
Professional hair & makeup for the bride*
Officiant
Luxury bridal bouquet & groom boutonniere*
Custom wedding cakes and dessert bars are available from Cakewalk Heirloom Baking Co.
*We have teamed up with many amazing vendors to put together even better, more comprehensive all-inclusive packages, including video, hair, and makeup. We believe this team of vendors is an amazing and talented team. However, we cannot guarantee the product of any services provided by any separate vendors. Separate vendors are contracted separately with couples and are not under the employment of Dawn Kelly Photography, LLC.
Your Vendors
Dawn Kelly Photography, LLC
Ceremonies by Sara
Legacy Weddings (video)
Fog Light Media (video)
Wildflower Bride (Hair & Makeup)
Beauty by Corin (Hair & Makeup)
The Enchanted Florist & Whatnots (floral design)
If none of these packages meet your needs, we are happy to put together a custom collection for you. Contact us today to reserve your date.
Free Stuff!
We'd love to hear from you.
As a documentary-style wedding photographer, it's my job to tell the story of your one-of-a-kind day. I want to make sure we're a good fit, both in style and personality, so I can capture the true essence of your day and who you are as a couple. Supreme customer service and quality of product are extremely important to me, so time constraints prevent me from accepting every job.
If you're interested in working with us, fill out the form below and you'll hear from me within 24 hours.