ABOUT THE ARTIST
Why I Do What I Do
Imagine this:
You and your spouse live a long, happy life together. You laugh together, cry together, hold each other up during hard times. You have children, then grandchildren, and you get to watch them grow up. One day, the whole family is at your granddaughter's home celebrating your 50th wedding anniversary, and she pulls out your wedding album, which you passed down through the generations. She's incredibly proud to own this family heirloom.
You and your husband forgot how beautiful your wedding was, and you swell with emotion, remembering how you felt as you stood at the alter, being joined as man and wife. You grin at each other, reliving one of the most special days of your lives. The rest of the family gathers around to look at your pictures. What do you want them to see?
Will they see trendy, overly-posed, overly-processed photos? Or will they see natural, timeless images that tell the story of your love. Will they FEEL your love as they turn the pages? Will they laugh and cry? THAT is what's important. Not how much you spend on your wedding, or how perfect the flowers were. The memories and the legacy is what's important, and I want to give that to you.
When it comes down to it, I just want to change your life by giving you photos that will be cherished for generations to come. Your children and grandchildren will look at them, see your love, and remember you for generations to come. There's nothing more precious than your memories.
How I Do What I Do
When my camera is in my hand, something happens to me. It's like a lizard-brain-thing. This instinct of motion, light, and emotion turns on, and I'm always looking for things worthy of film. I don't shoot, shoot, shoot. I wait for it, aiming to hit the trigger at the perfect moment.
I capture everything on film, and I'm proud of that. There's something deeply beautiful about the depth of texture, the vibrant colors, and the soft sweep of skin tones on film. Mostly, I love the honesty of film. It's real, unedited life, which is how I like to capture moments. When you look at your wedding photos, I want you to feel like you've been transported back in time to that very moment it was taken, unedited.
Shooting film also makes me a better photographer. After 25 years of practice, I know what I'm creating when I look through the camera. It's still incredibly exciting to get a wedding or portrait session back from the lab. It's even more exciting to show the bride and groom, because they get to relive the most special day of their lives. Every bride and groom says the wedding day flies by faster than they ever expected. They love seeing all the moments they missed. The groom gets to see the bride getting dressed in her wedding gown. That's really special.
Film also makes me braver. When I do personal or art projects, I thrive on trying new things without a net. Without looking at the back of the camera, I have to make a beautiful, interesting, unique photo. Sometimes I try really crazy things while doing my personal projects, not knowing how it's going to turn out. There's a sense of pride when I create images that are really interesting and unique. It's so much fun, I never want to stop doing it!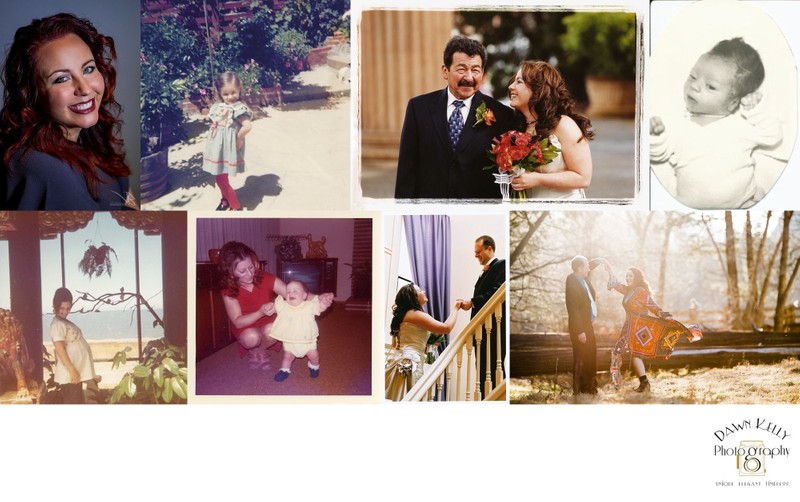 Here I am throughout my life, in my mother's belly, the day I was born, learning how to walk, and on my wedding day. Without these photos I would have no way to preserve my legacy.
Who I Am
I am a product of what I've learned throughout my interesting and somewhat difficult life. When I was a baby, my mother had to leave my birth father and survived on Welfare and the kindness of her family and friends. About nine months later, she met my dad, they fell madly in love, and were married within a year, much like Mark and I. Ernie became Papa. He asked my mom if he could adopt me, and of course she said yes.
My mother has always been a very hard worker, very detailed, accurate, and ready to learn. I learned work ethics from her, even though she left her secretarial position when I was eight. From then on, she taught people the Bible full-time, free of charge. Going with her in the ministry created some of the best memories of my childhood. She was very unbiased and taught people of all races, economical brackets, and sexual orientations. She even taught homeless people in camp grounds. From both of my parents, as well as my faith, I learned to be very fair and to never be prejudiced towards anyone.
My father was from El Salvador, one of five children. His father was a judge, and very abusive. When his mother left him, she had to flee the country because her life was in danger. She only had enough money to bring her daughter with her, so she left the boys in an orphanage, where they stayed until she was able to send for them. He was eight years old when he came to this country. They lived in San Francisco's Mission District, and not on the ritzy Valencia Street side, either. They were poor, and the Mission was where all the Hispanic immigrants settled. When he was sixteen, he lived in his car in the Mission for a while, then got a job as a painter's apprentice. From the age of eighteen until he retired, he worked for the City and County of San Francisco as a painter, and he was seriously the best I've ever seen. Sometimes he took me on jobs with him and let me paint. I loved it.
He was an extremely tenacious, stubborn, industrious, generous, brilliant, hard-working, hot-headed man. He taught himself Italian and Portuguese as a hobby, and became fluent in both. He built our three-story home almost single-handedly. He would give anyone a chance. He had a stash of brand-new toys to give when he had a fatherless boy over to the house. He also taught people the Bible, going in the ministry every weekend.
From him, I learned to be independent, generous, kind, industrious, hard-working, and to take pride in my work, regardless of how small the job. I also have his corny sense of humor. Thankfully, I didn't get his hot-headedness.
When I was in the fourth grade, I was flunking out of school because I was being bullied. My parents ignored it, told me to shrug it off, to be tough. It had been going on for four years, and I had finally started to break. I was planning my own suicide at nine years old. When my bully moved away the summer before sixth grade, I started getting strait As and perfect attendance, so I was moved into the gifted program. This is what bullying does to children. It stifles their ability to live their lives in normal and productive ways.
Even though the bullying was terrible, I decided to learn from it and move on. It's definitely made me tough and tenacious. No one will ever tell me again that I'm nothing, that I can't accomplish my dreams. Those voices in my head (and they never ever go away) make me want to try new things, work my hardest, and constantly challenge myself. I'm proud of my accomplishments and the hardships I overcame to make them happen. I've been through a lot, and I've emerged a victorious Badass!
As a survivor of bullying, I work hard to be kind. I experienced first-hand the damage cruelty does. It's been thirty years, and I still have nightmares. No one deserves that. I feel that the standard of beauty in this world is crushing us as women. We grow up being taught to hate our bodies. Part of why I do boudoir photography is because I want women of all shapes, sizes, ages, colors, etc to see their beauty. Every woman has beauty within them that needs to be brought out. Diversity is extremely important to me, and it's been my business model for many years. It's important that I have a great variety of people in my portfolio, because they're all beautiful!
In a nutshell, I'm a sentimental fool who values family and art. I'm a wife, friend, and free spirit who treats my cat like a person. I'm obsessed with Friends and watch it every night. I'm terrified of sharks, and my biggest goal in life is to learn to ride a bicycle.
Even though I'm 1/8th Navajo, I am very very Italian, so I live on cheese and olives, have an unnatural love for food, and my hobby is drinking wine in bed while I watch true crime television shows. I'm obsessed with scary movies, Criminal Minds, and Law & Order: SVU. In another life, I was an FBI profiler who chased serial killers! I love to read thrillers and write Young Adult crime fiction, but I also gotta have a good laugh at classic slap-stick comedies, such as Three's Company and I Love Lucy. Life is all about balance, after all.
I live in Modesto, California (no sharks) with my husband Mark, who's the best wedding-dress-fluffer ever, and our two very spoiled cats, JJ and Gracie. There's also a possum in the backyard.
Where I Am
We are a boutique photography studio based in Modesto, California, serving California's Central Valley, the California coast, Yosemite, and world-wide.

For more information, check out my Wedding FAQs and Boudoir FAQs, and read the testimonials from our super awesome clients.
Featured In: